Customized Missalettes for the Extraordinary Form
The Latin Liturgy Association will, at your direction, design and produce a custom Hand Missal for your parish (minimum order of 50) to use at Extraordinary Form Masses. These Hand Missals are coil bound for durability, and have a PVC clear cover to provide lasting protection for the content. They are all 5 1/2 inches by 8 1/2 inches. They may vary in content, complexity, and price. You may specify the use of color or grayscale printing. You may prefer to have only the Ordinary of the Mass, or you may choose to add the Leonine prayers, Benediction, and a Kyriale of up to five Gregorian Masses (square note notation). Your custom cover may feature a photo of your church's exterior, or high altar, or unique statuary, or stained glass window.
To begin the process, please review the three links below to gain some idea of the potential Tables of Content and sample pages. Then use the "Contact Us" link at the bottom of this page to describe your needs. The LLA will contact you to refine the requirements and arrive at a price per missalette. All orders are prepaid. The schedule to produce the missalettes also varies depending upon the quantity, size, and complexity. Product is shipped via insured media mail.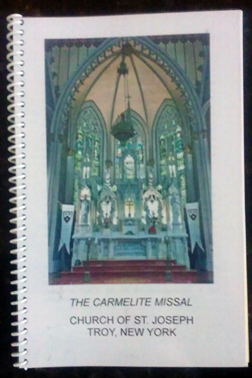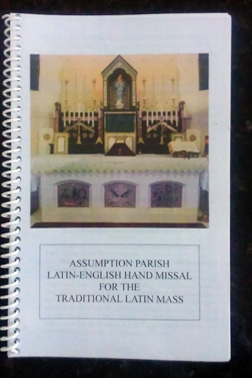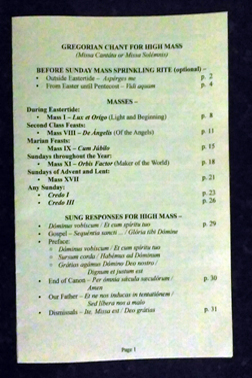 Contact Us